Do you have a real estate business and want to offer an online presence to your business but are still searching for the best real estate website development company? Well, you are notified that the company offering you a real estate website with the following features can be considered as the Best Real Estate Website Development Company in Pakistan:
Great Website Design
Your website is a place to meet your customers for the first time so the first impression should be great. For this purpose, you have to design a website. Well, you need to have a website just according to your business that what you are? And what services you are offering to your customers. The website design should be as accurate as one will get the idea from the first look that what he is going to get from the website.
For a real estate website, the advanced search or filter is necessary. Let the people allow to search smoothly. Allow them to search according to their selected place, the selected type of house, etc. This thing makes the customers easy to find things according to their needs. So, the company works for the easiness of your customers is the Best Development Company.
You are looking to have more customers on your website then make a loyal relation with them. This can happen through the proper contact details. First of all, offer your customers the proper contact detail to keep in contact with you. Moreover, you are required to arrange a contact form in such a way that customers can easily send their query through the contact form that what they want to get from your side. This thing will not only build trust between you and customers but also bound them to contact you whenever they need to buy properties.
A Mobile Responsive Website
As we know that today almost 53% of users are using mobile phones to browse the information on the internet. So, it is more than half of the percentage of users using mobile phones. Under this situation, for a company, running the business through a website, it is necessary to build a mobile responsive website. In this way, the business would get more and more customers. So, ask your website development company to offer you a Mobile Responsive Website Design to attract a large number of customers to your business.
For a real estate website, the presence of a map is necessary. This is because people can take a complete view of the available properties near to them. This thing makes the customers or buyers easy to search for their needy properties. A good real estate development company takes care of every easiness of the users. So, must hire the company offering you all the basic facilities to attract the customers.
IDX/MLS Integration
Internet data exchange, IDX is a software used to display multiple listing service, MLS properties on a real estate website. Today with the help of IDX it has become so easy to offer up-to-date information about a wide range of listings. So, a development company can be considered as a good company that works with the latest technologies such as IDX. Never compromise while starting your real estate business and must choose the companies working on the latest trends and are professional in their field.
Navigation Should Be Flawless
The navigation bar is a way to show your services that who you are and what types of services you are offering to the buyers. So, it should be as clear as one would get a complete idea regarding the services you are offering. Otherwise, if your customer would not get the proper idea that what he can get from your side he would leave you and most probably would never see you again. So, with the help of your developer try to arrange a fully responsive and clear navigation bar.
Provide Proper Image Gallery
For a real estate website, it is a plus point to attract the attention of the users through image galleries. Ask your developer to offer proper image galleries that your buyers can view easily to choose their option. The images should be beautiful and optimized because in this way you can attract the attention of the users and, at the same time, you can also maintain the performance of your website.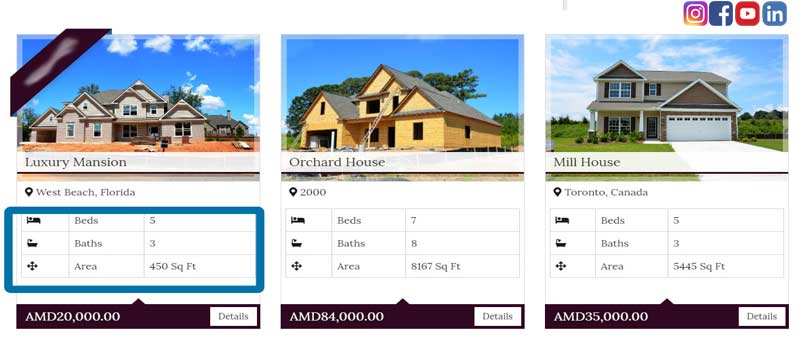 Offer Custom Property Display
Offer your customers a custom property display on the front page of the website. In this way, they can easily get the idea that how much they need to invest or spend to get their desired property. This idea can make the customers easy to choose the designs, location, and will help them to know all other features they want to have. The developers should try to arrange the custom property display beautifully and responsive manner to attract the customers as well as to maintain the performance of a website.
Social Media Icons Are Necessary
In the end, you are informed that social media marketing has become a common trend to enhance your presence in the market. So, try to add social media icons on the front page of your real estate website and allow users to share your content with others. Today, the most commonly using social media platforms are included in Facebook, Instagram, and Twitter, etc. So, try to add almost these commonly using icons.
Final Takeaway
No doubt, all these above-mentioned features make a real estate website a perfect or a complete website. You are looking to start your real estate website today and looking for a developer to bring all these features to your website then you have informed that you have reached the safe destination. This is because here at softsolutions you are provided the expert and Professional Website Developers who are familiar with all the latest trends using to build a real estate website. So, do not feel any hesitation to contact us for creating a responsive and good looking real estate website right now.